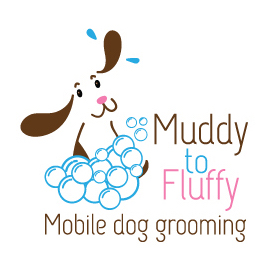 RETURNING TO GROOMING AFTER COVID-19 LOCKDOWN


In line with Government and industry advice, we stopped grooming during the COVID-19 pandemic on the 24th of March 2020. During lockdown, Muddy to Fluffy was put on hold while I helped at a pharmacy that I used to work at.
In line with the recent Government announcements, we are now in a position to start thinking about going back to work and getting your dogs groomed and looking their best again. This is something we will be doing slowly and cautiously. To provide reassurance to you and to ensure we all remain safe while grooming, we are letting you know what we are doing during this period.


What you need to be aware of when booking:

What we're going to do when grooming:
Frequently Asked Questions
Q1. Can dogs carry COVID-19?
There is not conclusive evidence that dogs can transmit COVID-19 to humans however, it is possible for COVID-19 to be transferred on your dog's coat in the same way as it could be on any other surface that an infected person may have touched.
Q2. Why will it cost me more?
As your dog's groom is probably a little overdue, it is likely that your appointment will take longer than normal and will mean that we will use more products and will have greater wear and tear on our equipment. However due to the extended period of lockdown over the course of the year you won't be paying any more than you normally would have for grooming, in fact it will probably be less! A price increase was due in April however, in light of recent events, this has been postponed to December 2020.
Q3. If I call, can I get an appointment the next day?
We will be working through our waiting list in the first instance however, if you do want an appointment or would like to be added to our waiting list, please do get in contact. We're afraid at the moment we don't know how long it will take to work through the waiting list.
Q4. Can I have my dog in the same style as I always have them?
We will try to accommodate requests however, as your dog will likely be longer than normal and dependent on the coat condition, it may not be possible. We put dog's welfare as our main priority so if a dog is in discomfort or distress, such as through matting, we will most likely have to shave the coat. To better your chances of getting a style you want, please do brush your dog regularly, wash them when required and check for any matting or areas where there may be discomfort. During the consultation before we begin, we will talk with you on your dog's health and condition where we can discuss the options available.
Q5. Can you groom my dog somewhere different to normal?
We are very happy to work with you on finding the best arrangements to groom your dog – this may include grooming in the garden or garage. However, as normal, we will require access to hot water, space to groom with adequate lighting, adequate ventilation and access to a power socket. Please note also that if we are grooming outside, this appointment is more subject to change dependent on weather conditions.
Q6. Do I need to wear PPE?
We will be following Government guidelines on the use of PPE and the requirements for which will be assessed on a case by case basis. PPE can be an important control measure however, remaining vigilant on possible symptoms, maintaining effective social distancing and practicing good hygiene are the best measures to control the virus – we will be washing or sanitising hands much more than normal during the grooming process. When booking in, please do mention any specific arrangements, we will try and accommodate them however this may not always be possible and we are unable to provide customers with PPE during their grooming appointment.
Q7. If I book an appointment, will the time change at all?
The condition of dogs will vary hugely so there may be occasions where we arrive slightly later than originally planned. However, we will do our best to notify you of any time changes. We will also comply with all the current Government guidelines at the time of your appointment so if restrictions are re-introduced, we may need to cancel your appointment.
Q8. What if I need to cancel my appointment?
This period will be very busy for us so please try to keep to your original appointments. We understand that in some cases this can be out of our control and you may need to rearrange or cancel. For example, testing positive for or showing symptoms of coronavirus will require your appointment to be cancelled until completion of the isolation period. Please give 48h notice for the cancellation of your appointment or you may be charged up to 50% of your standard appointment fee before you are able to book a future appointment. We will be sending out reminder messages both a week before and 72h before your appointment to hopefully remove any need for this!
Q9. I have been told I need to shield; can my dog still be groomed?
If you have been informed that you are required to shield or you have other underlying health conditions that leave you at greater risk to COVID-19 so meaning you are isolating for 12 weeks, we are afraid that we cannot groom your dogs at the present stage of time. Although we are undertaking a number of control measures to reduce the risk of COVID-19 there is always a residual risk that cannot be controlled and in line with advice, we cannot come into any form of contact for those of you who are at greater risk.
Q10. My dog normally needs more than one person to groom them, can we still do it?
We will again need to assess this on a case by case basis. We need to take the welfare of all dogs and customers into account and maintain good social distancing practices. For those dogs that normally need more than one person to groom them, it is unlikely in the current situation that we will be able to groom them safely. Please get in touch if you have any further questions regarding this.
Q11. Can you recommend any other dog groomers in the area?
We understand that at this time customers may want to go elsewhere to get their dogs groomed; for example, in a salon. There are a number of other groomers in the area who are following similar practices however we are unable to specifically recommend any to you as we are not familiar with their currently policies. Thank you all for your custom, this is a very strange time that is causing challenges in all industries and across all of the pet grooming industry. We will continue to work with you to provide a safe and caring environment for your dog to be groomed in.
Q12. I have another question?
If you have another question please do feel free to get in contact. Please be assured that we will be following the most up to date Government and pet industry advice and guidelines. There is a wealth of information available on the internet from such organisations as The Kennel Club, Pet Industry Federation and the Canine and Feline Sector Group, to name a few.
By booking an appointment, you confirm you have read and agreed to the terms and conditions as stated in this document and other Muddy to Fluffy policies.

The health and wellbeing of customers and dogs is the number one priority when operating the business with a number of control measures in place, however in the unlikely event that you or a member of your family becomes ill following your appointment, Muddy to Fluffy cannot be held responsible.

All operations undertaken by Muddy to Fluffy will be based upon the most recent Government guidelines, utilising all control measures as far as is reasonably practicable. By booking an appointment you accept that greater control measures are in place to minimise risk from COVID-19 however a residual risk will always be apparent which cannot be fully controlled by the company.